Biography
Andrew Madden, M.D., was born at Dromore (Drumheath ?), County Down, Ireland on February 2, 1782, the son of Edward Madden and Rose Brannigan. He came late to medicine having graduated at the age of 35. He was awarded his Diploma as "Surgeon and Physician" at Glasgow University in 1817.* Later the same year he sailed for Quebec aboard the barque William Tell**, Captain Bonar. Andrew was ship's "surgeon", responsible for 300 immigrant passengers. While passing through the Gut of Canso some misfortune befell the ship, which put into Pictou where the immigrants were put ashore. According to tradition, Andrew was so taken with the Strait or Gut of Canso that he never took up his grant of land in Quebec, but returned and settled at Arichat, where he practiced his profession for 40 years. He died January 30/31, 1858, and was buried on his 76th birthday, February 2, 1858. His wife was Ann Jackman, born in Halifax, July 1798/99, died in Arichat, March 23, 1868.
Andrew's studies at Glasgow University began on November 3, 1812. A card of that date admitting him to Mr. Burns' Public Dissecting Room and signed by Granville S. Pattison is noted. From November 3, 1812 to April 8, 1813 he attended lectures by Allan Burns on Anatomy and Principles and Operations of Surgery, and a handwritten letter by Mr. Burns attests to his attendance and ".... he has likewise with punctuality attended the Public Dissecting Room during one session." During this period, from November 1812 to April 1813, he also attended lectures in Anatomy by Granville Pattison and lectures in Midwifery and Diseases of Women and Children by John Burns.
The following year he attended the Andersonian Institute including the Public Courses in Chemistry and Materia Medica by Andrew Ure, which concluded in April, 1814. A Glasgow Royal Infirmary card, over the signature of Andrew Wilson, House Surgeon, and dated July 14, 1814, attests that Andrew Madden spent six months in that Institution.
The year 1814-1815 appears to have been a busy one. Cards indicate his attendance at the Institutions of Medicine Class at Glasgow University under Robert Freer, from November 8, 1814 to March 14, 1815, and also his attendance at Granville Pattison's Private Dissecting Room and Lectures in Anatomy from November 1814 to April 1815. He completed two courses at the Andersonian Institute in 1815, both given by Andrew Ure, one in Chemistry with its Application to Medicine and the Arts, and the other in Materia Medica, Dietetics and Pharmacy. During this year of 1815, he seems also to have had a sort of Internship, as a letter dated March 10, over the signature of George Watson, Member of the Faculty of Physicians and Surgeons, Glasgow, states "Mr. Andrew Madden has attended my shop for twelve months with great diligence, during which time he has patients frequently committed to his care, and has uniformly acquitted himself so as to deserve my most qualified approbation."
During the summer of 1816, he attended lectures on Surgery by Granville Pattison, and from April 1816 to February 1817, he attended Public Lectures in Theoretical and Analytical Chemistry and in Materia Medica and Pharmacy, again delivered by Andrew Ure.
He received his M.D. in 1817. Later that year, he sailed from Glasgow for Quebec.
A short note in Latin, dated Greenoch, May 3, 1817, and signed Joannes Gordon, states that he confessed his sins prior to his sailing for Quebec and received the sacraments.
Another note, signed by Andrew Scott, Roman Catholic clergyman, and dated March 22, ? attests to his honesty and industry while attending Glasgow University.
* University cards, letters and other notes are in the possession of Dr. John Edward Macdonnell (sic), Antigonish, N.S. His Diploma is also here, handed down by Mrs. Annette Fixott, a cousin.
** Could have been the William Fell, Captain Unknown.
In a recently published history of L'Assomption Parish, Arichat, it is stated that Dr. Andrew Madden was a Warden of the Church at the time of the opening of the present Church. Mass was celebrated on Sunday, October 15, 1837. (Author Wilfred Samson, published in The Casket, vol. 135, No. 15, Antigonish, N.S., December 10, 1986.)
Transcribed, verbatim, from a document compiled by Gregory Madden (Dr. Madden's great-grandson) and his daughter, Vaughn Madden (this subject to confirmation).
This is a scan of what is possibly Andrew Madden's medical diploma from the University of Glasgow. It is in latin and somewhat faded; I will attempt to secure a translation. A scan will also be posted of Dr. Madden's license to "exercise the ARTS of SURGERY and PHARMACY", issued by the "FACULTY of PHYSICIANS & SURGEONS of the City of GLASGOW", which was issued on April 8, 1817. Dr. Madden sailed for Canada in May of that year.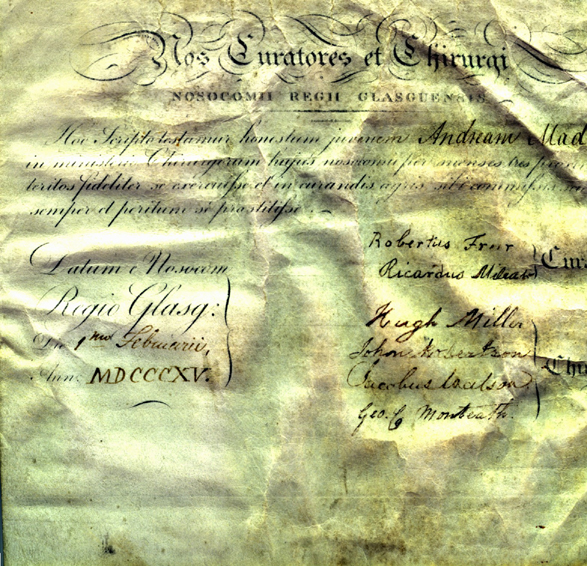 Source: MacDonell documents